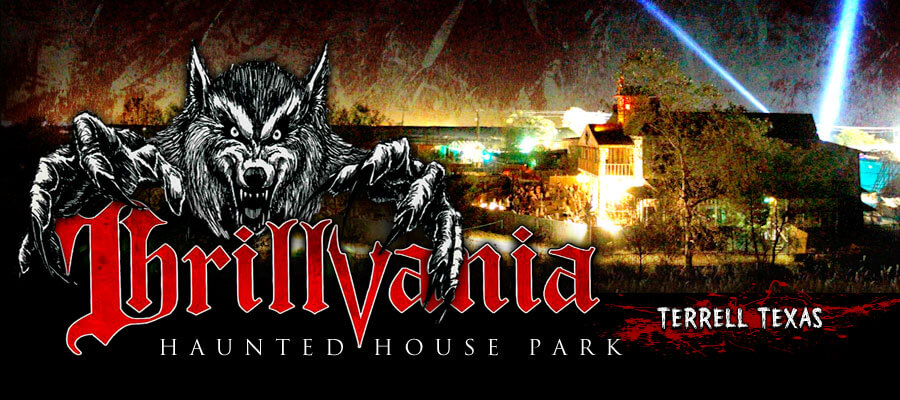 TO FIND MORE HAUNTED HOUSES IN HOUSTON
Terrell Texas near Dallas Texas is the home of one of the scariest haunted houses in America called Thrillvania Haunted House Park. Texas has many incredible haunted houses and Hauntworld rates and reviews the best haunted attractions in America. Hauntworld can help you find hundreds of haunted houses in Texas and America .
---
Comprised of five separate attractions and situated on 50 acres of woodlands just a few miles east of Dallas, Thrillvania Haunted House Park is a world class haunted attraction conceived and built by legendary haunted house visionary Lance Pope.
---
The centerpiece of the attraction is Verdun Manor, a nightmarish, dilapidated, ghoul-infested old gothic mansion reputed to be haunted by a psychopathic werewolf and his vampire bride. Accessed by way of the dank, marshy Voodoo Bayou and a foggy overgrown cemetery, Verdun Manor has grown and evolved many times over the years since its original incarnation.
The building started out as "Haunted Cannon Manor," a regular attraction at the annual State Fair of Texas. Anyone who has seen pictures of the original façade of the manor will recognize a striking similarity to Disneyland's haunted house attraction, and indeed the haunt was originally designed and created by former Disney Imagineers.

It was there at the State Fair where a young and impressionable teenager fell in love with "Haunted Cannon Manor". Young Lance Pope persuaded the owner of the attraction to let him help out, sweeping floors and cleaning up after the crowds, later working as an actor and eventually collaborating in the creation of new scenes and features.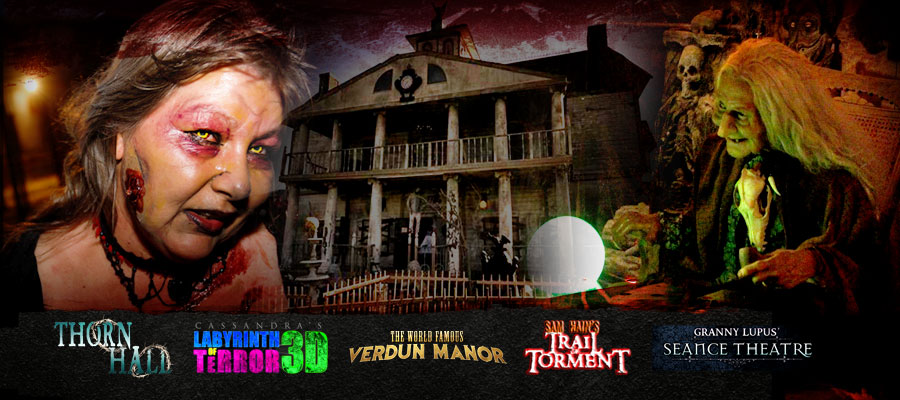 In 1989, while attending the University of Texas at Arlington and operating the first, much more modest "Haunted Verdun Manor" across the street from his dormitory, Lance got a call from the owner of Cannon Manor, offering to sell him the attraction. The caveat was that he had to be able to get it moved NOW! Lance was so enamored with the haunt that he made it happen.

Lance leased a small plot of land in Forney, Texas, and there he refurbished Cannon Manor to become the new Haunted Verdun Manor, an attraction that grew and flourished so well over the next seven years that in 1996 Lance moved it to its current 50-acre plot in Terrell, Texas. He named the new Haunted Park "Thrillvania". The site in Terrell was large enough to allow Lance to expand his dream, adding new buildings and attractions every year. In the last year of his life he added Granny Lupus' Séance Theatre, which debuted in October of 2002.

An amazing display of animatronic genius, the Séance Theatre features ghoulish ectoplasmic visitors from the other side, flying phantoms and grotesque talking heads. More fascinating than truly frightening, it's an especially good attraction for some of the more timid visitors to the park.

Those with coulrophobia, or fear of clowns, may want to steer clear of Cassandra's Labyrinth of Terror, a shocking, in-your-face, brilliant three-dimensional trip through madness, full of optical illusions and treacherous passageways frequented by evil, chainsaw-wielding clowns.

Thorn Hall is a chilling old Victorian style building that rests on the top of a huge hill. It is an experiment in sensory deprivation, forcing guests to face their fears while traipsing through complete darkness, relying on their heightened sense of smell, touch and hearing to guide them past the unseen horrors.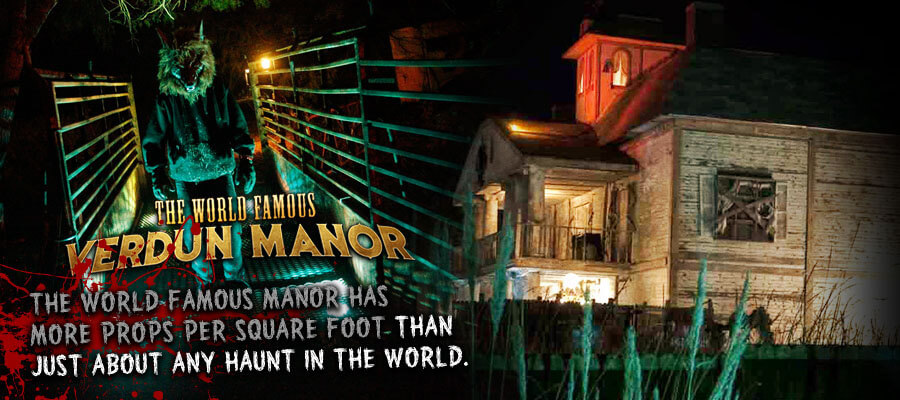 Lance's original hayride has been replaced by Sam Hain's Trail of Torment, a creepy walking trail where monstrous human experiments come at you from every direction as you fumble your way through the black Texas night. The actors are able to slip in and out of a cloak of darkness, remaining camouflaged until the very last moment, causing visitors to feel all the more vulnerable and exposed especially to werewolf's.

The park features so many spectacular pyrotechnic displays that they keep two licensed pyrotechnic operators on site whenever the park is operational.

The hallmark of the haunted house park is still Verdun Manor, Lance Pope's labor of love, and fans come from far and wide to be scared witless inside its hallowed halls. With amazing set decorations, spectacularly ghoulish themes and an incredible cast of actors, this life-size horrific mansion just keeps getting better and better.

Making full use of 21st century technology to build chilling special effects, Haunted Verdun Manor is a massive experiment of shock and gruesomeness. There's so much to see as you walk - or run - through the mansion that each trip through brings a different set of terrors. The world famous manor has more props per square foot than just about any haunt in the world.

Many talented people work together to make Thrillvania come alive every year, dreaming up new ways to terrorize and titillate the thousands of loyal patrons. Lance's mother Suzette Pope, Jeffrey Gilbreath, Michael Malec and Todd James run the attraction, with a good deal of help from Lance's loyal "wolf pack," many who have been with Thrillvania since its inception.

All of these talented people were friends and colleagues of Lance Pope, and together they strive for one thing: to keep alive his dream, best expressed in this often-quoted sentiment: