Tulsa, Oklahoma - Hex House
By Hauntworld Magazine
TO FIND MORE
HAUNTED HOUSES IN OKLAHOMA
Tulsa Haunted Houses are some of the scariest and best in America! Hauntworld.com rates and review the best haunted houses, haunted attractions, and Halloween events in America! Hex House is located in Tulsa, and has one of the scariest haunted houses in America! Prepare to scream! Sit back and prepare to scream through our review of Hex House. This Halloween you can't miss the scariest and best haunted attraction in the entire state of Oklahome, Hex House.
Hex House in Tulsa Oklahoma will leave you breathless, screaming around every turn and we have the inside scoop on what makes Hex House Tulsa, OK #1 haunted attraction. Are you prepared to learn the ins and outs and go behind the screams of one of America's best haunted houses? Read on our dear FRIGHT FANS because Hex House in Tulsa Oklahoma is about to make you beg for mercy.
To learn more about Tulsa, Oklahoma's Hex House visit their websit below:
www.tulsahexhouse.com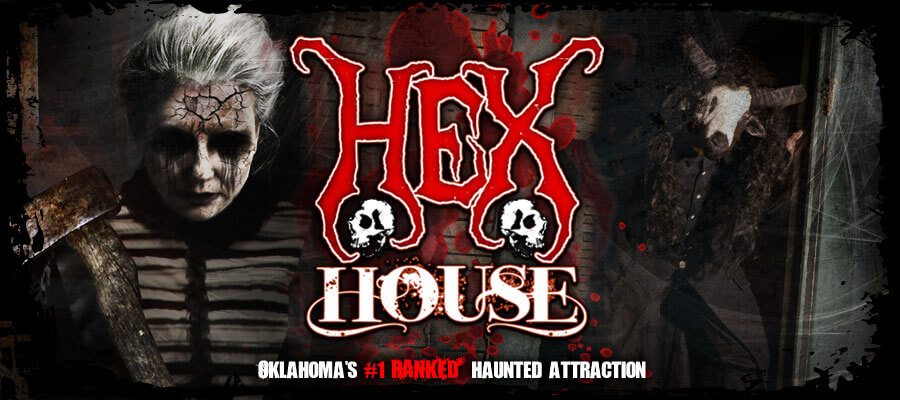 TO FIND MORE
HAUNTED HOUSES IN OKLAHOMA CITY
The guttural screams you hear are not from the sight of a vampire, a werewolf, or an overdone Freddy vs. Jason look alike. They aren't from film, and they aren't confined to a screen. They don't echo solely from the throats of the easily scared, the children, or the damsel in distress next door.

They come from you. They come from the seemingly safe prairie of Oklahoma. They come from the Hex House.
Founded in 2008, The Hex House in Tulsa, Oklahoma has been terrifying and delighting Oklahomans from every corner of the state since its opening. It is the premiere extreme haunted attraction in the state. And the word "extreme" is not to be taken lightly. This is not a haunted house for those who prefer a leisurely stroll through some bloody sets where nothing is allowed to touch you. But, for those who like to truly delve into the primal meaning of fear and those who are brave enough to remove the barriers between themselves and the horrors awaiting them, The Hex House is a haunt you simply must visit.

The Hex House actually traces its roots to a chilling and nearly forgotten piece of Tulsa history. In 1944, a ghastly tale unfolded in the media that contained elements of murder, the occult, and a great deal of mystery. A police investigation ultimately led to a small casket being unearthed in the backyard of a Tulsa home, as well as the discovery of two young women forced to live in the squalor of an unheated basement under a strange form of occult control. The two women told police that by following the religious orders of Carolann Smith, their seeming "leader," they were promised a big payoff in the afterlife. The women suffered atrocities at the hands of their guru. Ultimately, the woman at the center of the "Hex House" case (as it was dubbed by the local media) was sentenced to prison. The trial and all of the associated macabre details faded out of the limelight over time. Eventually the whole affair was forgotten… until the case was uncovered in an old set of archives by Rhett Holmes, the founder and owner of Dark Tulsa Productions, LLC. Holmes had been searching for a theme to build a haunted attraction around and the Hex House case provided the perfect source material. "I knew I had unearthed my theme the second I read the Hex House story," said Holmes. "I grew up around Tulsa, and I had never heard of the story before, but as soon as I read it, I knew it was ideal for the type of attraction I wanted to produce. It's been fun to not only build a haunt around the theme, but to also cast a spotlight onto a forgotten piece of Tulsa's history. The Hex House story actually happened. It's all true and it's one of the more bizarre episodes to have ever taken place in Tulsa. We've obviously taken creative liberties with the actual walk-through attraction, but the back-story was left untouched and it's available on our website, www.HexHouse.com, for anyone who wants to read about it." This kind of grizzly horror story is not one most people would associate with a quiet heartland city like Tulsa, and neither is the haunted attraction it spawned. The Hex House packs quite an unexpected punch, and in terms of quality, it wouldn't be out of place in any major market in America, except that it's uniquely Tulsa and serves up its scares with a healthy dose of Oklahoma pride.

"So many haunts have vague themes – aliens in one room, zombies in another, and then some vampires," Holmes says. "That's fine, but that's not the direction I wanted to go. I wanted a more cohesive approach and I wanted to do something with local ties. If someone is willing to pay us to scare them, then we don't want them to ever disengage from the environment we've created. We don't want them to think 'this is so unbelievably fake, because two seconds ago I was in a vampire crypt and now I'm in a spaceship.' Once the customer disengages, you've lost them, and it's very hard to actually foster any fear in them after that. We're not naïve, and I realize that all haunted attractions are just entertainment, but I wanted to strive for something as close to an alternate reality as we could possibly get. Real immersion and real fear are impossible to achieve when the scenes are too implausible and the transitions are too abrupt. My goal has always been to provide surroundings that you can buy into and feel a strange familiarity with. Our rooms have door frames. Our halls lead to actual rooms. The kitchen has a laundry room aside it. The bathroom is followed by a bedroom, etc. We strive to create an environment that could feasibly exist. Instead of going pure fantasy, like a sci-fi alien set, we try to take reality and push it to the darkest level possible… to its most evil version. We aren't placing you in fantasy; we're surrounding you with the most sinister version of reality possible."

The realism of the Hex House is a large part of what makes it really stand out as a haunted attraction. It is obvious to anyone who has visited that the staff does their best to bridge entertainment with truly scaring you and removing your comfort zone.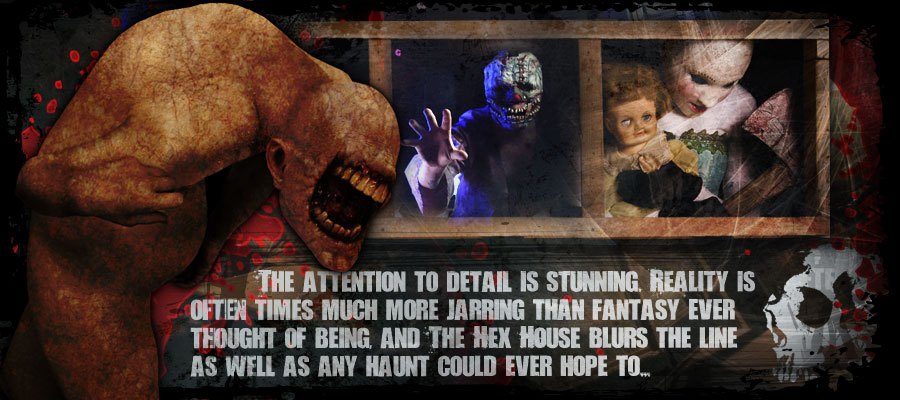 When you arrive at the attraction, you are facing an utterly unassuming and frightless commercial building in south Tulsa next to a popular local family entertainment center called Incredible Pizza (not exactly the sort of thing that instills fear). From the outside, The Hex House almost resembles a Halloween store more than an extreme haunted attraction, but this is one book that cannot be judged by its cover. It is a true marvel that the crew behind The Hex House are able to absolutely transform the inside of a blank commercial space located at the busiest intersection in Tulsa to the point that you need only take about five steps inside the doors before you have completely forgotten your previous surroundings. The indoor queue areas alone at The Hex House are worth the trip. "The outside of the attraction is the sacrifice we've made to be in the location that we're in," said Holmes. "We are located across from the busiest shopping area in Tulsa (Woodland Hills Mall), and you can't exactly waltz into an area like that and adorn your building like a decrepit 1940's haunted mansion. City codes frown upon that sort of thing, not to mention what our neighbors would think. Someday we'll probably move to a creepier location and deck out the exterior as well, but for now, we are happy to simply offer convenience and enough scares on the inside to make you forget everything but how scary it was."

Upon entering the attraction, you are led in small groups, which you may or may not be separated from, through 24,000 square feet and over forty rooms of pure terror, as a part of two attractions that the owners have built in the space. The walls are real wood and often feature actual vintage wallpaper. Real chandeliers and sconces adorn the eerie corridors. The night stands are decorated, the beds are made, and the bathrooms even have tooth brushes. If you make it through without prematurely sprinting out or having a panic attack, you will definitely have an appreciation for the time and effort that is put into the elaborate set design of this ornate haunted attraction. According to Holmes, ninety-nine percent of the attraction is built in-house and the decorations are antiques and actual household items giving it a totally realistic and original feel. The few scares that weren't created in-house are still custom scares that Holmes is rather proud of. "We collaborated with Heather Henry from High Noon Creations to create a few unique props and scares," recalled Holmes. "Heather did an amazing job of bringing our ideas to life, and we're really looking forward to working with her more in the future. There are a few other companies we've bought things from over the years, but aside from working with Ms. Henry, we try to avoid it as much as possible."

Another major point that sets the Hex House apart is that the inhabitants are allowed to touch you. Of course, safety comes first, but allowing the actors to interact with their thrill-seeking customers takes the attraction to a whole different level, one that you cannot find in many places in the country. This is something that Holmes very much identified with. "Yeah, you're gonna get touched in The Hex House," asserted Holmes. "We offer no barrier between you and the horrors around you. When you enter The Hex House or our sister attraction, The Rise of the Living Dead, you become a part of the attraction, and you can expect the experience to be devoid of your standard haunted attraction comfort zone. If you think the scenes are scary when you're just looking, try walking through a haunt where the scenes literally stalk you." Holmes is a horror purist through and through and it becomes very evident when interviewing him that you shouldn't expect much mercy inside of The Hex House. It's a mantra that his staff seems to have fully embraced as well. The Hex House is not a haunt for everyone, and it's not recommended for children under the age of 13. Perhaps the most disturbing thing about The Hex House is the reason it's not recommended for children… It's not that it's overly gory or features a lot of grotesque torture scenes like some extreme haunted attractions. (It's actually surprisingly low on gore.) It's simply that the force of the terror in The Hex House is so jarring and hits on so many levels that it leaves many patrons unable to finish the attraction. "We have a fair amount of customers who are unable to finish both attractions and they have to be escorted out, usually in tears," says Holmes. "We also keep a tally of soiled pants, and yes, it happens. Our actors take great pride in scaring people beyond the point of bodily control, and it's almost like a badge of honor when an actor achieves a scare of that magnitude."


"Some of the things we do at The Hex House are very taboo in our industry and a lot of haunts actively avoid going as far as we go," recounts Holmes. "But it adds an element that just can't be replicated any other way and the day I have to turn it down a notch will be the day I quit the industry." The scares come often in The Hex House, and in ways you won't experience in other haunts. It's not for the faint of heart, and that doesn't appear to be changing any time soon

An over-the-top group of actors, who go above and beyond for the scare, are wonderful, but it would be hard to pull off a haunted attraction of this nature without a ton of work behind the scenes too. As a former (and still occasionally active) concert promoter, Holmes has a background in live entertainment. The Hex House is very technologically advanced for a haunted attraction, and the focus on behind-the-scenes technology is a large part of what makes the haunted house tick. Every single lighting fixture throughout the building (of which there are over 300) is controlled by a central computer using DMX technology, making the staff at the Hex House one of the first to implement modern concert technology into a haunted attraction. The sophisticated system allows for unparalleled control and customization of the lighting, with the ability to make lights individually flicker or dim according to the wishes of the designers. The audio throughout the attraction is also controlled by a central computer – audio that is often layered with multiple tracks and played a variety of ways for an eerie effect. "We've been fortunate to have the right combination of people working on this project," says Holmes. "It doesn't matter how detailed your sets are, if you can't light them properly, then it's all for not. I have a very talented technical director, Derek Beland, who is a real innovator when it comes to that side of things. We're able to do a lot of things that aren't possible without a DMX system. Our setup is complex and it gives us headaches at times, but in the end, it's really the beating heart of what we do and I'd put our audio and lighting up against any attraction in the country. "

The more you delve into The Hex House, the more you begin to discover how deep the layers really go. Nothing is as simple as just jumping out and saying "boo." It was important for the staff to play on all five senses, and a vast amount of research was put into learning what sounds, smells, textures, and even architecture could psychologically affect people. The Hex House is not focused solely on the obvious scare, and it is the things you would probably not expect that may end up scaring you the most. Holmes and his lead designer, Cornelius Williams, have spent hundreds of hours fleshing out the various approaches to achieving a scare.

"Simple things can often get overlooked in haunted attractions," Holmes says. "It's easy to lose focus when designing a scare and spend too much time on trying to make something pop out unexpectedly. Startling someone is a way to get a scare, and we certainly make use of that as a scare tactic, but we also try to be cognizant of all levels of fear and psychology. The fear you feel from a startle is momentary, but the fear you feel when you are separated from someone you love in a crowded place, like the midway at a fair, and your cell phone is dead, and you suddenly can't find them anywhere in the sea of people… that fear can induce panic attacks," Holmes continued. "Fear comes in different forms and sometimes the most devastating terror you can feel stems from something much more primal and basic, such taking something that you take for granted away from you, and leaving you exposed and questioning how much faith you can really put in your surroundings."

Ask any haunted house buff why attractions end up failing to achieve a real scare, and they will most likely tell you this: predictability. No one wants to pay to see the same thing over and over again and it's impossible to be truly scared when you know what's coming. Eventually, you'll know what will pop out of where, and who will scream when, and which door the monster is behind. This was not an option for Holmes and his crew when they decided to create the Hex House, and he and his staff do whatever they can to ensure that "predictable" is never an adjective used to describe The Hex House. The actors have the freedom to roam throughout different rooms and tailor their scares to fit different groups throughout the night. If a certain room is not getting the reaction the employees hoped for, they'll totally revamp it. Two trips through The Hex House are rarely ever the same. The staff conveys that it certainly is not easy, but that it's worth it for the scare. This philosophy led to the addition of the Rise of the Living Dead – an immensely popular and equally creepy zombie attraction that accounts for the other half of The Hex House's building. "A few seasons ago, we decided that we wanted to branch into two haunted attractions to be able to offer more," said Holmes. "We held an online survey and we received an overwhelming response that the number one thing people are scared of is… clowns. So, we thought we'd build a circus attraction and that everything would be great. Um… wrong. The circus theme totally failed and the response from customers was not what we'd hoped. We made the tough decision to ditch the theme and take on the sizeable task of starting from square one again and building a zombie themed attraction. We built The Rise of the Living Dead and finally got the response we were hoping for. It's all about staying flexible and doing what it takes to provide people with scares. If that means redesigning a room to have multiple scare points, or decking a whole attraction and starting over, then it's just part of the game."
The Hex House staff consists of forty to fifty actors on any given night, as well as a handful of designers and managers to make sure everything runs as smoothly as possible. In addition to the founder and designer, Rhett Holmes, the core Hex House crew consists of Cornelius Williams, Construction Manager/FX designer; Derek Beland, Audio/Visual Manager; Damian Lund, Set Decorator; Leah Murphy, Makeup/FX Coordinator; and Greg Davis, Construction Assistant. All of the employees are native Oklahomans (except for Derek Beland, who hails from the Northeast, but who has adopted Tulsa as home) and they take a lot of pride in being able to provide their state and city with a quality Halloween attraction. They describe themselves as very "Tulsa-centric." Their casting director does local Tulsa theatre and their set decorator, Damian Lund, has worked on an impressive amount of Hollywood films, though he was born and raised in Henryetta, Oklahoma – about as far from Hollywood as one can get – and Damian can often be found around town sifting through garage sale items looking for deals on potential Hex House decorations. Holmes hopes that his customers appreciate the love and sacrifice that he and each of the employees make each Halloween season to scare the hordes of Tulsans that descend upon The Hex House. He jokingly (and possibly not so jokingly) says that one of the hardest parts for him is missing University of Oklahoma football home games (as he is a season ticket holder and die-hard sports fan).

"I hope our city appreciates the sacrifice of the workers," Holmes says. "The concerts, the football games, the dinners, the time with our friends and families – we miss so much during autumn. All of us have day jobs as well. Our actors spend over an hour in the makeup room, then run around and scare people until as late as 1 a.m. on some nights, then go to work in the morning and come back again the following evening. That takes dedication, and it's all done so that others can have a fun Halloween season. It takes a patient and supportive wife as well, because her October is affected too."
Holmes adds that he hopes to do a third haunted attraction in the future and foresees a change of location, due to the fact that they have maximized the space they currently occupy. When reflecting on the scary attractions he has brought to Tulsa – a fall favorite for thousands – he is reminded of the classic Bell's Amusement Park. As many Oklahomans will recall, Bell's was a family-owned amusement park located in Tulsa that was forced out of business in the mid-2000's. The closure of the amusement park is still a sore subject for many Tulsans, as the park featured both a classic wooden roller coaster and a Bill Tracy dark ride (notable to classic dark ride enthusiasts).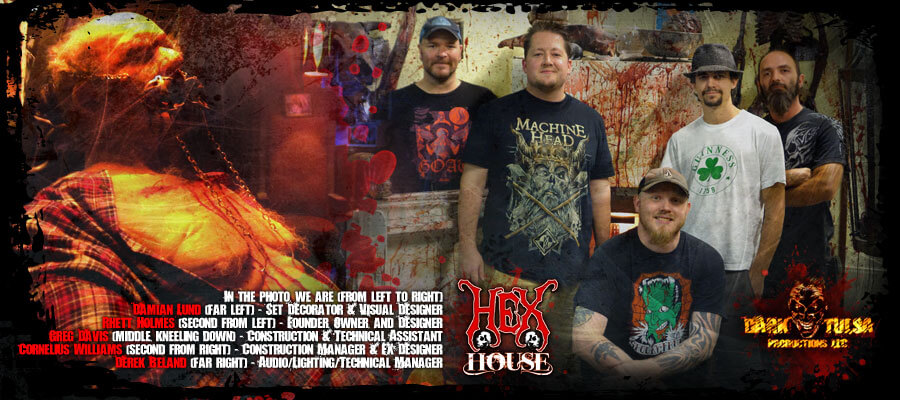 "I've never supported the decision that forced Bell's out," Holmes says. "They took something irreplaceable away from Tulsa. It was more than just a collection of rides. It had feelings associated with it, and it represented that childlike sense of fun and wonder that is all too often lost in today's world. It was more than the sum of its parts for those who grew up with it. It makes me sad to know there are generations of kids out there, not just in Tulsa, but in many cities, who will grow up without a local family-owned amusement park. If I am ever lucky enough to get the opportunity to embark on my dream project, it will be to bring back the old Bell's dark ride, Phantasmagoria, even if I make it a walk-through instead of an actual ride. People should support small family-owned operations that promote creativity and people should take pride in their hometowns. If something that inspired you was taken away, like the Phantasmagoria, or any of the memories the people of Wichita, KS have of the Joyland Amusement Park, then don't sit by and just watch it fade into the sunset. Stand up and fight for it. Save it if it can be saved. Resurrect it if it is destroyed. Use the spirit that was used to create it in the first place to create something new in its place if it is beyond resurrection. But, whatever you do, don't let the creativity die. If you like The Hex House, and it closes down someday, be inspired and build something new and better in Tulsa. We have a series of shirts available for sale this season that read "Keep Tulsa Haunted." We printed them because we thought it'd be a cool shirt, but also because it's something we're passionate about as a staff. And I hope anyone who reads this article will support the Bell family in their endeavors to bring the amusement park back to Tulsa."

Sentiment about defunct dark rides aside; there is nothing about The Hex House that will leave you with a warm fuzzy feeling. The ghoulish creation serves up a dose of terror so intense and personal that it's one of America's most extreme haunted attractions and a real gem for those who enjoy detailed set design. The Hex House plays out with the ambiance and creepiness of an old Victorian ghost story, but hits you with the force of an axe to the chest. It's the rare embodiment of a haunted attraction that remains as intense as they come, but without relying on Satanism or an endless stream of gross-out gags and extreme torture scenes. If you find yourself in the Heartland this October, check out The Hex House and The Rise of the Living Dead, if you dare!
The Hex House and Rise of the Living Dead are located on the southeast corner of 71st and Memorial in Tulsa, next to Incredible Pizza.
They are open on weekends in October and on select weeknights.
See www.HexHouse.com and www.RiseOfTheLivingDead.com for more details.