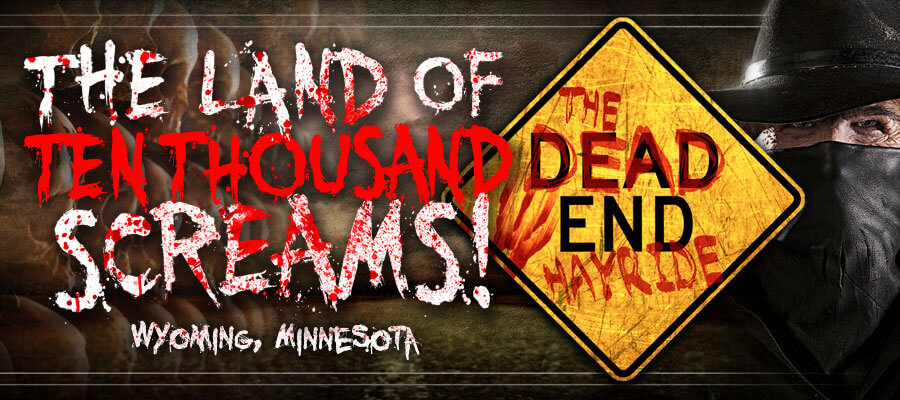 TO FIND MORE HAUNTED HOUSES IN MINNEAPOLIS
---
Jeremy Hastings had dreams of creating his own haunted house on the family farm ever since he was old enough to go trick-or-treating. Now, he and his team of young entrepreneurs have turned that vision into one of the best haunts in Minnesota – The Dead End Hayride.
The Dead End Hayride is located at Pinehaven Farm, which has been in the Hasting's family since 1950. It sits about 35 minutes north of Minneapolis and St. Paul (the Twin Cities) in Wyoming, Minnesota, where every fall it becomes a popular pumpkin patch and harvest festival. While the 150 acre farm is best known for its pumpkin patches, petting zoo, and family activities, what sets it apart from other area farms are the unique animatronics incorporated throughout like the talking scarecrows, moving characters in the outhouses, a pumpkin eating dragon, and a pumpkin cannon... all of which were thought up and built by Jeremy himself. Sue Hastings, Jeremy's mother, commented that she recognized an uncanny ability to "tinker" in her second of five children, and added that he was only 15 years old when he built Minnesota's first pumpkin cannon. She also begrudgingly admitted that he's still the only one that can fix and operate the pumpkin-eating dragon to this day. Jeremy's role in fabricating elaborate props and effects for the farm helped set the platform for him to achieve his dream of eventually building a unique and innovative haunted house experience for his haunt guests.
---
When he was just 20, he read about a haunted attraction held on a family farm in North Carolina. He was struck by the similarities he saw with own family's farm, and after a few conversations with the event's owners, Jeremy headed south to experience it personally. He soon found himself at Kersey Valley SpookyWoods in High Point, NC, where thanks to the owners, Tony and Donna Wohlgemuth, he was able to learn the basics of operating a haunted attraction. Feeling inspired and motivated, Hastings returned to Minnesota armed with a passion and the beginnings of a plan for his own haunt.
His first task was to recruit a few like-minded individuals to take part in his haunted entrepreneurial dreams, and surprisingly, this did not prove to be very difficult. A few good friends, all in their teens or early 20s at the time, showed immediate interest in the project, and soon they began their first project – a haunted cornfield. After spending a long, hot summer weeding an entire cornfield by hand, constructing realistic shacks out of sheet metal, and inventing horrifying props out of pretty much anything they could find, the young haunters were exhausted yet determined. They found themselves a gaggle of teenage misfits at the local highschool to be actors, and in October 2009, the Site 66 Haunted Cornfield was ready for its first victims.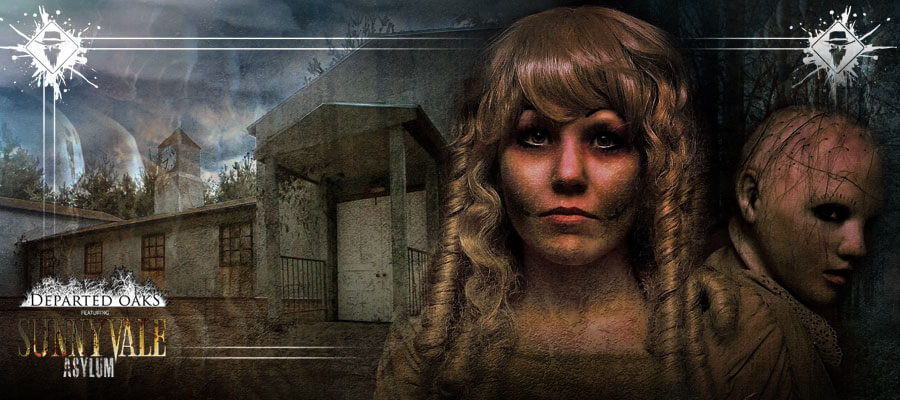 After the cornfield gained instant popularity, Jeremy knew it was time to take it the next level, and in 2010 the Dead End Hayride was born. As the haunt grew, the responsibilities of running a business became too much for Jeremy to manage alone. Longtime friends Brent Faymoville and Eva Kloos, who had been with Jeremy from the very beginning, took on the roles of General Manger and Operations Manager, and before long Bjorn Carlson had joined the team to play the part of Art Director. Together, these four hard working individuals make up the Dead End Hayride's management team. They all worked full time jobs during the day, leaving just the night and weekend hours to plan, construct, and perfect the haunt. As they began to pour themselves into the huge task of building an entire attraction from the ground up, more and more people began to gain interest in this haunting opportunity. The Dead End crew quickly increased from four to an entire lineup of haunters including make-up artists, graphic designers, tractor drivers, actors, a building and tech crew, and more. Aside from being in love with the business of making people scream, all members of The Dead End crew also share something else in common…youth. The entire management team and most of the staff are in their 20's.
---
Although the business of making people scream proved to be no small task, the energy, enthusiasm, and determination of the individuals on board keep them focused and motivated. Hastings and his partners are big believers that much of the Dead End Hayride's success is due to having a haunt team that is passionate about putting on an incredible show. Today, the Dead End crew continues to work hard every year to create not only the most horrifying haunted house experience with ultimate haunt scares around every corner, but they provide multiple haunted house attractions at one location with unique scares for every haunt enthusiast:
---
The Dead End Hayride

As the sun sets on Pinehaven Farm every Halloween season, the pleasant and bustling family friendly atmosphere of the fall harvest festival quickly disappear with the sun, leaving in its place a quiet and unsettling stillness. The hayride is the first step in the nightmare. Large tractors pull hayracks full of fresh meat through 40 acres of dark forest. Although these woods are vast, it is nowhere near empty. The winding trail is filled with original animations, bumps in the night, and surprises around every corner. The realistic monsters are top notch in both effects and scream-talent. This first attraction really sets the scene for the horrors that lie ahead.
---
Departed Oaks Haunted Trail featuring The SunnyVale Asylum

Standing in the courtyard of the SunnyVale Asylum, it becomes easy to forget where you are; instead of on a family farm in the Midwest, you find yourself in front of a realistic abandoned insane asylum that appears to have been built hundreds of years ago. In reality though, the Dead End crew built the building from ground up a just few summers back. Yet there's a distinct sense it has been rotting there for hundreds of years. This is due to both the talent of Bjorn, the art director, and to the impressive scavenging that the crew did to locate authentic pieces to adorn the attraction. Many of the props throughout the asylum were actually used inside a real institution, from old wooden wheelchairs to large metal cribs with cages on them. Even the immense iron gate guarding the entrance is a real prop that adds haunting detail. In fact, each small detail adds up to an intensely horrifying effect inside this amazing haunted house attraction.
---
Site 66 Haunted Cornfield

Site 66, the original haunted cornfield, has seen many changes since its creation in 2009. It is home to one of the most loved and hated parts of the attraction… the chainsaw maze. This haunted maze is the very last part of the Dead End experience, and to say the show ends with a bang would be an understatement. Facing a nearly impenetrable labyrinth-like maze, guests experience the deafening sound of real chainsaws wielded by a hoard of relentlessly brutal men. Guests have one last chance to make it out alive. That is, until they come back for more, which they always do.
---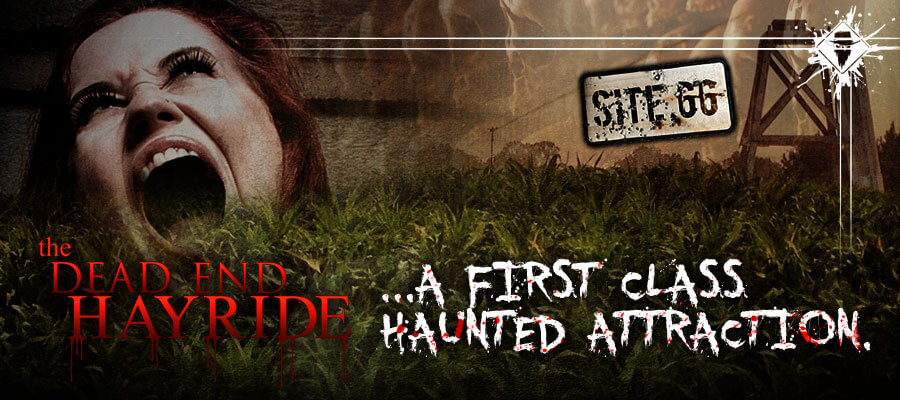 ---
Now preparing for their fifth season of the Dead End Hayride, Jeremy and his crew continue to add on and improve their haunts each year, and they have no plans of slowing down. In a market where the "scare" business doesn't even show up on the map, Hastings and his crew have defied the odds and built, from the ground up, a first-class haunted attraction...
Not bad for a bunch of 20-somethings.
---

TO FIND MORE HAUNTED HOUSES IN MINNEAPOLIS