Haunted Houses in Tennessee are some of the scariest in America and in this addition we rate and review one of the best and scariest haunted attractions Tennessee. Frightmare Manor is located near Knoxville Tennessee. Tennessee has some of the scariest and best haunted houses and near Knoxville Tennessee is one of the best haunted houses in America. Hauntworld helps people all over the WORLD find haunted houses, attractions and throughout Tennessee.
Nestled at the East Tennessee foothills of the Appalachian Mountains sits a historic, intimidating property that for years has brought intense fear to people's minds and is appropriately named Frightmare Manor. Anchoring this real 6-acre plantation is an early American, 19th century Manor that has been converted into an authentic haunted attraction experience. Over the years, Frightmare Manor has been entertaining large crowds that travel to see, smell, feel, and touch for themselves why "True Terror Exists Here". So let's look into what makes this such a successful event with Frightmare Manor owner Chris Wooden.


OVERVIEW
---
Frightmare Manor, located on the outskirts of Knoxville, TN, exists as a must-see, multi-element, indoor/outdoor, sensory attacking haunted attraction that has been consistently and repeatedly voted #1 by the Knoxville News Media. This attraction is slowly gaining national recognition as more and more people return every season. What started as a small endeavor years ago has now transformed into the ultimate Haunted Attraction in the East TN region with over 100 of the scariest haunted house monsters and performers hired annually to bring "True Terror" to this historic property. Owner Chris Wooden reflects on the process of developing the haunt, "We have poured so much work and countless resources into what Frightmare Manor has become today. The most gratifying part of owning a Haunted Attraction is seeing others have a blast and creating those unforgettable memories for our customers. We are very proud of the complete entertainment package we have developed at Frightmare Manor." Wooden continues, "We have recently had to secure over 20 acres adjacent to our property for parking on our busiest nights. When the Fall chill rolls in and you feel the tingle in your spine, it's time to make the pilgrimage to Frightmare Manor."


And many people have, including Tim Harkleroad, haunted house guru and author of several industry renowned publications, most notably The Complete Haunted House Book. Harkleroad says, "With being in the industry, I have been to lots of haunted attractions over the years, but I rarely get to attend with "regular" people along for the sheer fun of it. I attended Frightmare Manor with 6 other people from work, and I have to tell you... It was nothing short of AMAZING. Frightmare Manor is a multiple event haunted attraction featuring a house (yes, a real house), a haunted woods and a "Crazy Maze" my group kept calling it. Never a dull moment, never a let-up of fear, these folks just get it! They have done an excellent job at creating a large and effective operation by immersing their customers into the property's creepy background. It's really cool! They know what it takes to run a successful major Halloween event. I am proud to know Chris. He and his team have put together a well-planned, expertly-run, multiple haunted attraction in a small town and are reaping the rewards and benefits. My group loved it as did I. We will be back again next year, and I encourage others to travel and experience too!" But just in case you can't see Frightmare Manor for yourself this Fall, let's now take a look into arguably the most successful haunted attraction in Tennessee and why their victims keep coming back for more.


COMPLETE ENTERTAINMENT EXPERIENCE
---
Frightmare Manor receives year round notoriety because of its unique, historic location in sleepy Morristown, TN now presided over by its legendary, murderous inhabitant, Jeremiah Lexer. This spooky plantation had previously sat vacant on a major 4-lane highway for over a decade with no signs of life or activity. The feel and appearance of desertion played perfectly into the vision of establishing a first-class haunted attraction. As you arrive, you are greeted by an enormous Gargoyle that is 20 feet tall with red glowing eyes. Wooden explains, "For those who have been in the industry a while, you might recognize our Gargoyle entry/façade piece from the Kansas City haunt once owned by Dennis Kingslover. After that haunt's closure, this one of a kind piece was brought here to welcome victims to the Jeremiah Lexer property… Frightmare Manor". With the haunted manor attraction sitting so close to the Highway and the originally aged, 100 year old concrete staircase leading to the actual road, it's no wonder that passer bys are instantly intrigued with this amazingly authentic Haunted House. Once on site, you are surrounded by 3 uniquely themed, separate, intimidating haunts, and you immediately feel that this is not a normal haunted attraction. Instantly, you realize that the level of professionalism and quality of entertainment here is something different, something authentic, something resembling TRUE TERROR.


"I attribute a lot of the success of Frightmare Manor to the overall package we offer on site" says Wooden, "including 3 of the scariest walk-thru haunted houses balanced with high-tech animatronics, special FX, and demented, highly-aggressive haunt actors. We also have a very large common area where you will find concessions, fire pits and the largest outdoor movie screen within the Industry. "Our movie screen is huge at 23' tall and 40' wide. This was a project our team took on and it turned out better than expected. On nights we're open, we show surveillance scare footage from previous years. We've found that people love seeing others get scared and this giant screen serves the purpose of entertaining our waiting customers. The customers really appreciate the movie screen, especially on our busiest nights. It also allows their attention to be diverted while our roaming lot actors stalk them as prey and deliver the perfectly timed scare! Some customers even believe it's live footage and this only builds their anticipation before entering the haunts."

Q. How do you create and keep authenticity within the Frightmare Manor Haunted Attractions?

A. I feel that today's haunted house customers want and appreciate authentic haunted attraction experiences. We've seen that customers want to put themselves in a foreign, believable environment and feel what is happening around them is REAL, culminating in a complete entertainment experience. There are so many examples of hugely successful attractions that take an already creepy structure or property with a decent location and then create a haunt around it. Frightmare Manor was originally built on this principle too. All of our attractions have great "curbside" appeal, striking fear in its victims who are nervously waiting to enter. Although the names and theming can change from year to year within the attractions, the "True Terror" feel we want, is always present.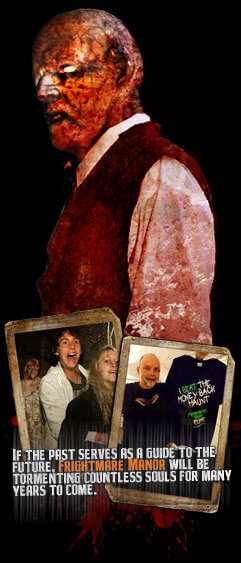 The Manor
---
The first attraction, The Manor, is set in the original 19th century plantation home that has survived on the property for over 125 years. Most of the original attributes inside the Manor remain untouched, including the kitchen, dining area, 3 burnt out fireplaces, original staircase, cellar, upstairs bedrooms, and many more authentic details one might find in a mansion built in the 1800's. Nearly 50 years ago, the State laid a highway right through the plantation, leaving the Manor's large staircase directly connected to the highway. It looks AWESOME as if luring people to the dark entrance of the Manor. With the amazing detail already existing inside the structure, efforts are made to accentuate the authentic design with tremendous lighting and enhanced props. The Manor has a very confining feel throughout, as many rooms are small, allowing the haunt actors to interact very personally with each customer, with each haunted house victim!

Carnivore
---
This attraction was built from the ground up where the old barn structures once stood on the Jeremiah Lexer plantation. Fronting the entrance of Carnivore is a 20 foot tall Gargoyle surrounded by 200' wraparound, 16' tall façade. Easily their biggest undertaking to date and highly visible from the highway, Carnivore inspires awe and intimidates all at once. A hybrid of an indoor/outdoor attraction, Carnivore uses wildly intense, gory actors, a multitude of disorienting lighting, special FX, chain link fencing, multiple drop panels, and heart-stopping music to confuse and attack every sense possible.

Backwoods
---
The final walk-thru attraction is a walking path set in the deep haunting woods extending to the very back of the property. Backwoods is such a vulnerable environment as the thick brush, towering trees, and dark paths allow for great startle scares. Because Backwoods leads down into a valley before emerging again, the feeling of being alone and separatism is strong. All of the haunt structures in the woods are constructed of materials that fit in its surroundings. We have used aged barn lumber that creepily fits right in with its environment – heightening the realism. Whatever the customer sees should make sense. Backwoods is scary even when not open. Not even their own haunt staff will go back there alone unless equipped with a flashlight equal to the sun.


Q. What do you feel is the most important aspect of a Great Haunted Attraction?

A. Effective and Intriguing Marketing! This is the 1 thing every successful Haunted Attraction shares. Picture this…a group of friends are planning a night of fun. It's Fall. There's a creepy chill in the air, and someone says, "Let's go to a haunted house." With so many choices, what are the deciding factors of where they end up? You, as a haunt owner, need to ensure that YOUR haunt is where they end up. You must inspire them to visit you. We've found that the average person buying a ticket to a haunted event is willing to drive a little further and even pay a little more to experience the best haunt entertainment option available to them. We, as haunted house owners, need to ensure that our haunt's name is THE place to go. How does an owner do this? By intriguing and motivating your potential customer to visit your haunt! You need to convince people WHY they should come to your attraction using a thought-out, well planned marketing strategy. I've heard so many Haunt advertisements that focus on price, location, and emphasizing they are the "scariest in the area". Woohoo…This has been overdone and when customers hear this vague claim without quoting any source, they block it out. Haunts must realize that marketing your attraction well is the #1 priority to building a successful haunt. ONLY after you have determined your unique offering and how you will persuade people to visit your haunt over other entertainment options, THEN you can set out to build the best Haunted House possible! Don't build an amazing haunt and leave the marketing on the backburner!

Our first year, we were a good haunted house coupled with extraordinary marketing. Because of our early successes, we are now a great haunted house continuing to give our customers a reason to visit Frightmare Manor year after year. You must find your haunt's niche in your market and promote it! We consistently draw victims from a radius of 3 hours. Frightmare Manor's success has been great for our local economy as well. We've partnered with 2 local hotels and work very closely with our county Tourism Department. We've been very fortunate to garner tremendous media attention over the past few years – including the Knoxville News Media showcasing the Frightmare Manor property annually. When people hear about the haunted attraction that you can get your money back, they want to know more, which drives more victims (and the curious media) to our gates. Then, once they're on site, we make sure they get a great show."

Q. Can you give us an overview of the Money Back Haunt® portion of Frightmare Manor?

Sure! As stated earlier, the Haunted Attraction Industry is built first and foremost on customer entertainment and each owner/operator must make your Haunted Attraction unique and stand out in your customer's mind. The Money Back Challenge® is simply another way to provide entertainment for your customers. Being a seasonal business, haunts have such a small window of opportunity to convince potential customers to spend their time and money at our attractions – so we better make our attractions worth both of these valuable items! So we at Frightmare Manor have a very unique offering thus we get a lot of publicity as being the "Money Back Haunt®".



First and foremost, Frightmare Manor itself is a high-energy, 4 attraction Screampark that capitalizes on its creepy setting and scary atmosphere with in-your-face actors, animatronics, and spine-ripping special effects. But a lot of our success is generated from being the haunted house that "people have heard about for years, but never been able to find" – the Money Back Haunted House®. We give our customers what they want – an extreme haunted house experience where if all attractions are completed, you get ALL your money back! It's genius marketing that taps a once mythical legend – a legend more powerful than any marketing budget could achieve. Partnered with a great haunted attraction, the Money Back Challenge® provides an unforgettable, fun experience that will have customers bragging to their friends that "they found the Money Back Haunt®" or maybe even that "they beat it!" Now whenever someone says, "I heard about a haunt where if you make it all the way through you get your money back," instead of not being able to produce a name or remember who told them, they say, YEP, it's Frightmare Manor, and it's at 7588 West Andrew Johnson Hwy in Morristown TN. NO haunt marketing budget could buy the amount of free advertising we garner from being the Money Back Haunt®. Here's quick overview of what we do…

The Money Back Challenge® is an optional, upgraded ticket, 3-phase challenge with tasks that anyone can do – it's just each person's decision whether they WANT to or not! These 3 tasks will test the participant's psychological fortitude and will either be passed or failed by their choosing. That's what makes this different from anything else offered within the industry before and why the customers leave entertained – which is our industry's goal. Terrified (yet thoroughly entertained) repeat customers is what we want… Right? Each victim's success or failure in The Challenge is decided by themselves and not reliant on guessing a door, at random, chance or luck. If successfully completed, the customer gets all their money back for the entire evening and their picture put on our website as being the "Frightmare Manor Elite". We see a lot of people visit Frightmare Manor because of our "Money Back Challenge®" but then chicken out and just buy a General Admission ticket to the haunts. It's okay, maybe next time… It truly is "The Few. The Proud. The Elite."

We also own a Licensing business that allows haunts around the nation to become a Money Back Haunt® specific within their market. If you are interested in developing your attraction into a Money Back Haunt®, visit MoneyBackHaunts.com or you can contact me: Chris@MoneyBackHaunts.com. Licenses are market exclusive (100 mile radius) and USPTO Trademark protected. Wooden concludes,

"We view Frightmare Manor as a living, breathing, constantly adapting, and always improving life form. The moment you stop innovating and pushing the level of creativity is the exact point your customer loses interest. We work to always keep Frightmare Manor fresh on people's minds within our market." If the past serves as a guide to the future, Frightmare Manor will be tormenting countless souls for many years to come.

---