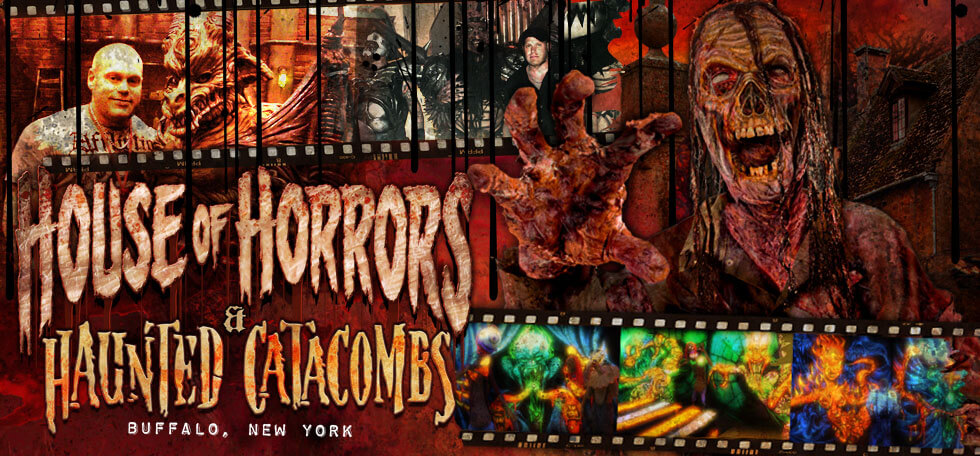 ---
Ever since a young boy, Tim Bunch loved monsters, science fiction & horror movies. He remembers quietly getting up when everyone was sleeping and watching movies that were probably way too scary and violent for a boy his age, but he just couldn't get enough! At about12 years old, he started volunteering at the local March of Dimes haunted house every October, and eventually at Buffalo's largest & longest running haunted house attraction, The Haunted Catacombs. Little did he know that years later, he would end up owning his own haunted attraction, House of Horrors, as well as eventually putting out of business and purchasing The Haunted Catacombs and running the largest and most successful haunted attraction in the Buffalo area!
---
Through high school and after graduation, Bunch worked for his father's swimming pool business starting very young shoveling dirt and working in the field building pools. Eventually, he ran the entire hot tub side of the business and brought Majestic Pools and Spas to become one of the country's largest hot tub dealerships. Through what now seems like fate, Bunch eventually befriended the members of his all-time favorite band the Misfits, and when asked to join the production crew and tour with them, Bunch jumped at the chance! Every fall and winter after the swimming pool season ended, Bunch traveled across the US, Canada and Mexico. For quite a few years every fall/Halloween tour would be a MISFITS/GWAR double bill, selling out large venues all over the country. One night in late October the Misfits were hooked up with passes for Halloween Horror Nights in Orlando. Bunch was blown away by their haunted house horror and hasn't missed a year since. He couldn't believe how amazing the haunts were compared to what he was used to seeing in New York.

In October 2001, Bunch hadn't left town yet for touring with the Misfits due to a later schedule than usual, so he decided to once again attend the local haunt & Halloween festivities he had grown accustomed to years ago, specifically Buffalo's Haunted Catacombs. "Although I really enjoyed the haunt, I sat there and looked at the enormous lines and the 2-hour waits to get in, and I thought to myself, 'I can do a haunted house better than this!" said Bunch. Bunch started researching the haunt business and immediately stumbled upon the forums at Hauntworld.com and began taking in as much information as he possibly could. He came across a company and eventually purchased a used haunt before ever even attending the Transworld Haunt Show that March. Then Transworld came around, and he went to every seminar available, learning any tips he could from every speaker.



Bunch wanted to distinguish himself from other haunts and hated the cheesy, clip-art type of images that most haunts used. He found Brainstorm Studios for graphic design and they made him some "killer" artwork for that first season. He has been using them every year since. "If your visuals and your artwork look lackluster, the customers are going to think your Haunt is just as bad. You could have the best haunt in the world, but if your artwork and your website suck, that customer may attend another haunt, one with cooler graphics & images and better website and advertising. On the flip side, someone else could have great visuals and website, yet their haunt may suck. All the same, the customer won't necessarily know that until they've paid and have gone through!"

Bunch has Brainstorm Studios create a brand new image for his haunt every year. "I look at Brainstorm's artwork and ask myself, 'Would I buy a T-Shirt with that on it?' The answer is always a YES, and without fail, I'm always selling out of t-shirts and hoodies each and every haunt season. So many people want them! I simply cannot stress how important the visual identity of your haunt is!" exclaims Bunch. House Of Horrors opened that 1st Halloween season in a small 13,000 sq ft storefront in a mostly abandoned strip mall. Bunch thought he would be the only haunt other than the Haunted Catacombs in the market that year, but two other haunts opened as well and Buffalo went from having 1 major haunt to 4 in a single year! House Of Horrors grew and moved to a 20,000 sq ft location the following two years, and then to an 80,000 sq ft old department store in its 4th year. Bunch attended Transworld every year and bought the coolest props he saw. His haunt was getting larger and more successful every season, with animations and cool props around every corner. The haunt was very animation heavy. "No one in Buffalo had seen this stuff" said Bunch. "I literally had some kind of Scarefactory animation or Distortions prop around every corner of the haunt. Every year I would buy the newest giant Scarefactory prop. If it was cool and innovative, I bought it. People loved the stuff, and they knew they would see tons of cool new haunt items every year they attend House Of Horrors!"



2005 came around and Buffalo's longest running haunt, The Haunted Catacombs, didn't open after owning the market for roughly 13 years. The owners didn't want to spend the money and do what had to be done to stay in the market and compete with House Of Horrors. The Haunted Catacombs was teamed up with The Variety Club/Childrens Hospital charity and would donate a good amount of money after each season. Bunch linked up with the charity and has donated over $100,000 to Variety Club & Childrens Hospital since 2006 and is the only haunted house attraction in Buffalo that raises and donates money for charity.

In early 2006, Bunch negotiated with the owner of The Haunted Catacombs and bought the entire operation, over 20 semi-trailers crammed full of walls, props and décor, for an extremely low amount. This is where things really started coming together, and in 2006 Bunch combined his House Of Horrors and the long standing area favorite Haunted Catacombs inside an 80,000 sq ft building. Each of the haunts were roughly 30,000 sq ft each! Plus, a small 3D haunt was added, City Of The Dead in 3-D. Attendance skyrocketed with the combining of Buffalo's best haunts at one giant location, and two seasons were spent in that location, but the building was unfortunately sold to Hobby Lobby in the middle of June 2008 and Bunch had less than two weeks to move everything to a new location. The cost of the move was staggering, over 60 semi-trailer loads of walls, props, animations, etc had to be moved in a very small time frame. Bunch found another abandoned department store, this time 100,000 sq ft! 2008 and 2009 were spent in this location and House Of Horrors and Haunted Catacombs became one of the largest haunts in the entire country! Unlike most haunts, there were many mazes and alternate routes that made them unique. "Some people would be lost in certain mazes in the haunts for 30 minutes or more, and people loved it!" said Bunch. "Coming to the House Of Horrors haunted houses, people knew they wouldn't be in and out in 20 minutes like most other haunts. They could be INSIDE one haunt for over an hour, the average being 40 minutes for each house!!"On top of the sheer size of the haunts, there were well over 125 animations. "If there wasn't an actor, a Scarefactory prop was flying into your face!" tells Bunch. There wasn't really anything in the area that could compete with House Of Horrors. It was in-your-face, it was over-the-top, it was packed with the coolest effects and props out there, and it was HUGE!



They had legendary horror rockers, the Misfits, play a concert in the haunted house both years which always sold out! People traveled from states away to catch the Misfits play in an actual haunted attraction, and with an upgraded ticket they could tour the haunts before the concert started! Each weekend there were different celebrity appearances with the likes of shock rock band GWAR, Cast members of VH1's highly successful shows Rock Of Love, Tool Academy, I Love New York, I Love Money, A Basement Affair, MTV's Real World, and the hugely successful show American Idol. The reality show stars brought droves of fans to House Of Horrors, and there were usually packs of young girls waiting in line for several hours before the appearances!

In early 2009 Bunch was approached by Daniel Monroe of DWM Productions of Buffalo, NY. Monroe felt House Of Horrors would be a great location to shoot a movie and asked if Bunch had any interest. Monroe wrote a script for the film and started shooting "House Of Horrors The Movie" early that year. The cast compromised of mostly House Of Horrors staff and employees, as well as some Buffalo area actors. House Of Horrors The Movie was debuted to a sold out crowd in Buffalo, and it gained tons of media attention that October including most of the major TV news shows in the Buffalo area. House Of Horrors The Movie also won "Best WNY Horror Feature" at the Buffalo Screams Horror Film Festival. The movie sold extremely well at the merchandise stand at House Of Horrors that October and still sells very well online and at the attraction. You can see the trailer and order online at HOUSEOFHORRORSMOVIE.COM. Monroe and Bunch currently have another movie in the works, projected to debut this Halloween season so stay tuned!



After a hugely successful 2009 haunted house season, February 2010 came around and Bunch received word that his building was in the process of being sold, and everything would need to be out by May 30th. Bunch quickly went to work trying to locate a new home for House Of Horrors. He eventually found a location that not only had enough room for the haunts, but would also have enough room for much needed inventory warehousing space for the swimming pool company too. He started negotiating the purchase of this building in March. In the meantime, he needed to find enough storage for over 60 semi loads of haunt stuff! After thinking about the huge cost of tearing down and moving, Bunch decided to auction the majority of the haunts inventory. After investing tons of money on the best props and animatronics, Bunch realized his weak point was in the detailing of the attraction. He wanted to start with a clean slate at a new location and get rid of the old scenes and props that were beaten and weathered over the years. A deal was made with Norton Auctioneers and a booth was reserved at Transworld to distribute brochures. Well over 100 animatronics were pulled out of the haunts and displayed in the lobby, while the rest of the haunt was auctioned as you walked through. The auction went down as the largest haunt auction ever!

All the while, negotiations continued for the purchase of the new building, but in August it came to a standstill and eventually fell thru. A temporary location was available but would only give Bunch 3 weeks to build all new attractions and get open for the season. "I had to make the decision to either rush something thrown together in 3 weeks and not have the attractions up to my standards, which I believe would have definitely hurt attendance the following year, or take the season off and come back strong" said Bunch. He made the decision to sit the year out which he now believes was a blessing in disguise after other haunts in the market suffered a down year. Bunch, now he faced with a whole season off, quickly started arranging trips all over the country to see many of the haunts he hadn't seen yet but had always wanted to visit. "The standouts were House Of Shock, The 13th Gate, Headless Horseman, and House Of Torment" said Bunch. "Every one of these haunts was really inspiring and I was blown away by each. You see them in the magazines or maybe some footage online, but going through them is just unbelievable. On top of those haunts, I'd also include The Darkness and Netherworld in the list of the best haunted houses out there, and I'd really encourage anyone to do whatever they can to get out and see them. I visited Netherworld for the 2nd time this year (2011 Season). The first time was several years ago during the IAPPA show and it was awesome. I didn't know how they could top it, but of course they did and it was 10 times better than just a few short years prior. Just mind blowing! I also made it back to House Of Shock and 13th Gate again this year, because I enjoyed them so much!"



"I learned so much seeing how all these different haunts do things, a great learning experience. The haunt owners were very gracious, some I knew and some I didn't. They were all nothing short of awesome. I was given behind the scenes tours and had a great time at every one of them. I was even sent back to New York with some cool House Of Torment shirts! I personally want to thank everyone at all the haunts I visited for being so cool!" said Bunch. "I also visited a few "Scream Park" style haunts. I made my usual yearly trip to Halloween Horror Nights which was great. But the best stop on my trip was spending 3 days with my friends at Nightmare New England/Spookyworld. For a temporary event, it's amazing what those guys set up and tear down every year in such a short amount of time, unbelievable haunts combined with a really fun atmosphere. I had a blast! Mike, Wayne and Tattoo treated me to an amazing dinner one night when they cooked the biggest pile of crab and lobster I had ever seen! I think I ate 10 lobsters that night. What a trip that was!" With all the inspiration received from this whirlwind haunt tour, Bunch started planning for the 2011 haunt season. After a year off, he was ready to come back with a vengeance! It was tough finding a building since the past few years had some bad media attention cast onto haunted houses due to an area haunt having a fire, giant props falling off roofs, and being shut down for violence and safety. It seemed property owners in Buffalo wanted nothing to do with haunts. Eventually a location was secured in July, but due to rezoning issues, work could not start until August 24th! With only 38 days, Bunch had an impossible task ahead, but he and his small crew built 6 brand new attractions from scratch. House Of Horrors was back! The 2011 theme was "6 Gates Of Hell" offering 6 different attractions: Hell House, Body Harvesters, Buried Alive, Jungle Rot, The Gas Chamber, and Wicked Freakshow in 3D!




Bunch wanted to make a more original and detailed attraction, and really step things up. He wanted very memorable and original creatures and characters no one had ever seen before. He enlisted his friends Bob Gorman and Matt Maguire from GWAR who had recently started their own company, Corotted Artistry. They build and design all the costumes and sets for GWAR, each having a very distinct and over-the-top look to them. For the haunts, Bunch would come up with a character concept and they would take it from there. In 2011, they made several amazing costumes for House Of Horrors and are currently starting work on several more. Bunch also hired Matt Valentine and Global Fear Enterprises (who is on the upcoming season of Syfy's Face Off) to make several full custom costumes as well. The result was some very original & amazing creatures that would be seen every night roaming the lobby or "scaring the hell out of the patrons" in one of the attractions. "The response to our new monsters was great! Customers would come in looking for a specific creature that they saw on TV or online wanting nothing more than to get a picture with them!" said Bunch.

2011 was House Of Horrors best year yet. "The crowds were so large that it was a lot of work just trying to get everyone through the attractions by the end of the night," admits Bunch. There were more celebrity appearances including cast members from Twilight, Beetlejuice from The Howard Stern Show, and Jackass star Bam Margera. "I think I've really just started scratching the surface on where House Of Horrors is going, and this past season was a big step in that direction. What we did in 38 days is unbelievable! We've already begun renovation for 2012 to replace a few of the attractions with bigger and better ones. We have another movie in the works. We're simply going to blow away what we did this past season, and I can't wait to show everyone what we have in store for 2012. Be ready!!" says Bunch!
---
---