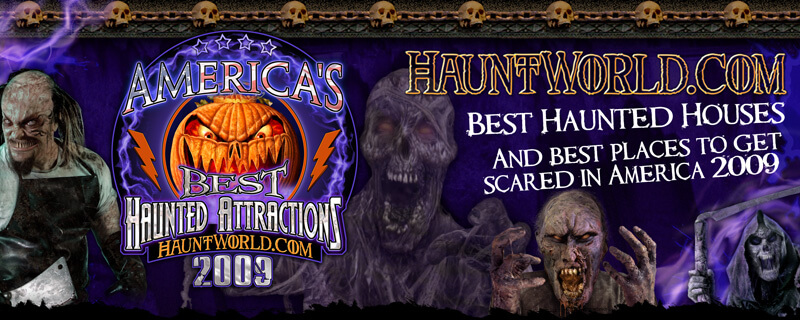 Eerie corners and horrific scenes of blood curdling fright await all who enter their local haunted houses during the 2009 Halloween season. Haunted houses have now become bigger than anyone could have ever imagined with some haunted attractions bigger than entire football fields and costing millions of dollars to produce. The haunted house industry is a multi-million dollar industry with major vendors like Scarefactory, Distortions, Ghost Ride and so many more who provide innovative animations, special effects, costumes, and products. This is an evolved industry from simple blood and guts scares to now real life versions of a top dollar Hollywood horror movie experience.

Haunted attractions have gotten so big that most major attraction owners no longer need to hold full time jobs to make ends meet. They've quit their normal 9-5 job and now work year round on their haunted houses, pushing the boundaries to make America scream. In this day and age of high tech movies, video games, and interactive entertainment, the Halloween Attraction industry has had to take its game to new FRIGHTS! For decades America celebrated October by carving pumpkins, taking their kids trick-or-treating, or taking in a Hollywood horror movie to get their scream on. Today things have changed. Visiting a local haunted house is NOW the traditional way to celebrate the Halloween season. Sure parents still take their kids trick-or-treating, but adults who were mere teenagers when the haunted house industry blossomed 10 or 15 years ago are still visiting haunted houses today, along with a new generation of haunted scream fans.

Haunted Houses have more guest attendance than ever before to the tune of over ONE BILLION DOLLARS. In comparison, Hollywood movies gross 9 billion annually. Yet the Halloween Attractions industry, in only one month can gross 1/9 that of the movie industry's annual intake…WOW! Aside from haunted houses, the Halloween Attraction industry also includes corn mazes, pumpkin patches, hayrides, amusement parks and even zoos that celebrate with Halloween events and attractions.

Scream seekers want LIVE action. They want to feel the sensations of being stalked of being terrified. They want to literally feel fear as it wells up in their throats and experience it live. No horror movie, no roller coaster, nothing you could experience could replace the sensations you will experience this year inside a haunted house!

Every season Hauntworld Magazine and Hauntworld.com (the World's #1 Halloween and Haunted House website providing haunt-seekers annually with the most comprehensive haunt directory on the web) produces a top 13 list to find some of the best haunted houses in America. Make no mistake, those haunts on our lists are not the only scary haunted houses in America. There are haunts we have not yet experienced or discovered, but our lists change every year as we learn more about new haunted houses near you! We rely on our users and guests of our website to point us to new haunted houses and Halloween Attractions. Some perhaps we've never seen nor heard of prior. Others could be new haunts preparing for their first year of fear. If you know about an awesome haunted house near you TELL US, WRITE US, we want to know what makes your local haunted house one of America's best haunted attractions. We encourage EVERYONE to find a haunted house NEAR YOU, not necessarily ones simply listed on our annual Hauntworld Top 13 Lists.

Use Hauntworld.com to shop by state for haunted houses near you. The home page, interactive map of North America will assist you to find over 2,000 unique haunted attractions from haunted hayrides, haunted woods, haunted trails, haunted mazes, corn mazes, and more!!!
Now we present you with our annual guide to some of America's Best Haunted Attractions 2009!
If you know of a haunted house we should review and rate for our 2009 list feel free to email us. Lastly remember this is NOT the only best haunts in America, make sure you visit a local haunted house near you by using our Haunt Directory located on the Front page of www.Hauntworld.com.

HAUNTWORLD TOP 13 HAUNTED HOUSES LIST / Top 31 Haunts One Haunt For Everyday in October




1. 13th Gate Haunted House – Baton Rouge, Louisiana, www.midnightproduction.com. 13th Gate haunted house is rated once again as the best haunted house in America two years running by Hauntworld.com, because this haunt has it all. Not many haunted houses in America have the level of detail, set design, incredible Hollywood makeup artists, special effects, all rolled up into one big massive scream factory! 13th Gate delivers on all levels and guarantees all who enter 13 levels of fear and fright.


2. Netherworld Haunted House – Atlanta, Georgia, www.fearworld.com. Netherworld is one of those haunted houses that take live actors to a new FRIGHT. Netherworld is one of the few haunted houses that dedicate an army of monsters to scare patrons while they wait in line and hundreds more waiting for you to enter the door. Netherworld has more giant monsters than the island Godzilla lives on! Netherworld is a haunt you do NOT want to miss!

3. The Beast – Kansas City, Missouri, www.kcbeast.com. The Beast Haunted House, one of the biggest and best indoor haunted attractions in the nation, spans FIVE FLOORS of fear with set design, ghost illusions, and detail to match the largest big-budget movies out there. The Beast is simply a 'beast' of a haunted house packing so much terror into an enormous building large enough for 10 typical haunted houses. You'll be asking yourself, "Will this nightmare ever end?"

4. The Darkness Haunted House – St. Louis, Missouri, www.scarefest.com. The Darkness is a powerhouse haunted house with Hollywood quality special effects, live actors, hundreds of animations, and amazing set design detailed throughout two floors of fright. New for 2009, The Darkness now includes a secondary attraction, Terror Visions in 3D, which many in the haunt industry deem as the best 3D haunt ever created. Also included is a Hollywood Horror Museum.

5. House of Torment – Austin, Texas, www.houseoftorment.com. House of Torment (HOT) is a haunted house Hauntworld discovered back in 2008 and featured on the cover of our magazine. HOT brings you an unmatched in-your-face FEAR and takes it to new horrific heights with icon monsters, over the top marketing, edgy scenes and blood-curdling screams!

6. Dent Schoolhouse – Cincinnati, Ohio, www.frightsite.com. The Dent Schoolhouse is new to our top 13 list and we've discovered a goldmine of FEAR with this one! The Dent Schoolhouse features incredible story telling, horrific set design, and amazing fright inside one of the creepiest buildings for a haunted house. Was that a costumed monster or the haunting of a REAL ghost?

7. Bates Motel – Philadelphia, Pennsylvania, http://www.thebatesmotel.com. The Bates Motel is more than just a haunted house. It's a major league SCREAM PARK with detailed haunted houses and a massive haunted hayride that's sure to have you screaming in fear! Bates Motel is quite well known for its haunted hayride featuring the most amazing pyrotechnics ever included in a haunt!

8. Haunted Schoolhouse – Akron, Ohio, www.hshlab.com. The Haunted Schoolhouse and Lab is the oldest running haunted house in America with over 30 years under their belt! Haunted houses nationwide revel at their longevity. The Haunted Schoolhouse features five floors of sheer terror and offers some of the best set design we've ever seen! The Haunted Schoolhouse is sure to boggle the mind and give you the ultimate creeps!

9. Bayville Screampark – Long Island, New York, www.bayvillescreampark.com. Bayville Screampark features the best outdoor façade of any haunted house we've ever seen. The façade to Bayvilles main haunted house was designed and created by major production companies, at installed at a cost of several hundred thousand dollars and that's only the façade. Bayville Screampark is owned and operated by the same company which owns Jekyll and Hyde Restaurant in New York. Bayville Screampark features 5 haunted houses from a mansion, 3D clown maze, haunted forest and much more.
10. House of Shock – New Orleans, Louisiana, www.houseofshock.com. House of Shock isn't simply the most controversial haunted house in America but it's also one of the best haunted houses in America. House of Shock features the most elaborate pryo stage show before you enter what might be the most intense haunted house you've ever experienced.

11. Dead Acres – Columbus, Ohio, www.deadacres.com. This makes our list as the absolute most insane haunted house in America and probably the craziest website to boot! This haunted house comes after you with everything they got. They never let up. And, the actors are just as intense as the theme, set design and special effects. For an experience like no other in America visit Dead Acres this Halloween season!

12. Headless Horseman – Ulster Park, New York, www.headlesshorseman.com. Headless Horseman is a force not to be reckoned with. It includes one of THE BEST haunted hayrides in America where the Headless Horseman himself chases you over an old rickety bridge! Also included in this massive Halloween event are haunted houses, a cornfield maze, gift stores and so much more. Headless Horseman is nestled on an old eerie farm providing an authentic Halloween experience that's sure to terrify all who enter.

13. Graystone Manor - Killen, Alabama, http://www.graystonemanor.net/. When your local haunted house is located in a town named Killen, you know you're in for the fright of your life, and Graystone Manor does not disappoint! Graystone Manor is an amazing haunted house with horrific actors, intense scares, awesome detail, sets, and animations! Get down to Killen, Alabama and let the killing begin!


The List Doesn't End There... `14th through 31st listed below: Turn the number 13 around and you come up with 31 so the list goes on to list the rest of the top rated haunted houses in America. There are 31 DAYS in October so we list our best haunts for each day in October.

14. Cutting Edge Haunted House, Dallas / Fort Worth, Texas www.cuttingedgehauntedhouse.com
15. Erebus Haunted House, Pontiac, Michigan www.hauntedpontiac.com
16. Edge of Hell, Kansas City, Missouri www.edgeofhell.com
17. Scarehouse, Pittsburgh, Pennsylvania www.scarehouse.com
18. Creepyworld, St. Louis, Missouri www.scarefest.com
19. Haunted Overload, a New England haunted house in Lee, NH www.hauntedoverload.com
20. Atrox Factory, Leeds, Alabama www.atroxfactory.com
21. Fright World, Buffalo, New York www.hauntedbuffalo.com
22. Dreamreapers, a Chicago haunt in Melrose Park, Illinois www.dreamreapers.com
23. Haunted Hotel, San Diego, California www.hauntedhotel.com
24. Fright Kingdom, a New England haunted house in Nashua, NH www.frightkingdom.com
25. Asylum Haunted House, Denver, Colorado www.getscared.com
26. Spookywoods, High Point, North Carolina www.Spookywoods.com
27. Pirates of Emerson, Fremont, California www.piratesofemerson.com
28. The Asylum, Las Vegas, Nevada www.lasvegashaunts.com
29. Field of Screams, Mountville, Pennsylvania, near Lancaster, PA www.fieldofscreams.com
30. Bennett's Curse, Baltimore, Maryland www.bennettscurse.com
31. Land of Illusion, Middletown, Ohio www.thelandofillusion.com


Best Scream Parks / Haunted Hayrides in America 2009 by Hauntworld.com
A Scream Park style haunted attraction is kind of like an outdoor shopping mall of haunts. They typically include several haunts at one large outdoor location with a possible combination of haunted hayrides, haunted midways, sideshows, trails, corn mazes and more. Most offer their entire package of horror for one low price.

1. Headless Horseman, Ulster Park, New York www.headlesshorseman.com
2. Bates Motel, Glen Mills, Pennsylvania www.thebatesmotel.com
3. Shocktoberfest, Reading, Pennsylvania www.shocktoberfest.com
4. Field of Screams, Mountville, Pennsylvania, near Lancaster, PA www.fieldofscreams.com
5. Creepyworld, St. Louis, MO www.scarefest.com
6. Spookywoods, High Point, North Carolina www.spookywoods.com
7. Bayville Screampark, Long Island, New York www.bayvillescreampark.com
8. Jason's Woods, Lancaster, Pennsylvania www.jasonswoods.com
9. Halloween Park, Strinestown, Pennsylvania, www.halloweenpark.com
10. 7 Floors of Hell, Cleveland, Ohio www.7floorsofhell.com


Best Places in America to get SCARED Are You looking to find the scariest places on Earth to get scared? Find our list of America's Scariest places listed by Hauntworld.com below.

1. Salem, Massachusetts www.salem.org. Salem is the best place in AMERICA to get scared because Salem has more haunted houses, ghost stories, witch museums, and Halloween events than any place in America! Salem is our hands down pick to visit if you love Halloween!

2. Niagara Falls, Ontario, Canada www.cliftonhill.ca. Niagara Falls has more haunted houses in one area than anywhere in the continent. Several haunts are found up and down the old Clifton Hills. Even the wax museum has a makeshift haunt s as part of the show. Plus, not far from Niagara Falls is Buffalo, New York which has even more haunted attractions like Fright World, House of Horrors, Haunted Catacombs and more.

3. Winchester Mystery House, San Jose, California, www.winchestermysteryhouse.com. This mystery house is filled with endless rooms. Turn off the lights and try to find your way out. Legend has it that ghosts inspired the original owner to keep building onto this house, the house that never ends.

4. New Orleans, Louisiana. Visit New Orleans and see some of the scariest graveyards in America with crypts, voodoo shops and YES several haunted houses too! House of Shock and 13th Gate Haunted House are sure to please, but another nearby haunt is located in a REAL mortuary. Check out The Mortuary Haunted House at www.themortuary.net.

5. Waverly Hills Sanatorium in Louisville, Kentucky www.therealwaverlyhills.com. This place looks so scary, you might just second guess stepping even one foot inside the door. They offer real ghost tours and an elaborate haunted attraction in October. Several people have actually died in this place, and I don't doubt for a second it's filled to the brim with actual ghosts!



Top 10 Amusement Park Halloween Haunted Events
Amusement parks are now full blown into the Haunted House business putting on some of the biggest haunted events in America, but some amusement parks do haunting better than the rest. Most amusement parks we've found do a half hearted effort to produce a haunted event in an attempt to extend the amusement season. However, some take it to another level; some amusement parks put real fear into their Halloween attractions. Here is our list of the best amusement parks producing a Halloween event this October 2009.

1. Universal Studios Horror Nights, Orlando, FL - www.halloweenhorrornights.com
2. Knott's Scary Farm, Los Angeles, CA - www.halloweenhaunt.com
3. Tampa Busch Gardens, Tampa, FL - www.howl-o-scream.com
4. Universal Studios Horror Nights, Hollywood, CA - www.halloweenhorrornights.com
5. Kennywood Amusement Park, "Phantom Fright Nights", Pittsburgh, PA - www.kennywood.com
6. Busch Gardens, Williamsburg, PA - www.howl-o-scream.com
7. King's Island Haunt, Cincinnati, OH - www.visitkingsisland.com
8. Cedar Point Haunt, Sandusky, OH - www.cedarpoint.com
9. Six Flags Fright Fest, NJ - www.frightfest.com
10. Old Tucson Studios Nightfall, Tucson, AZ - www.oldtucson.com