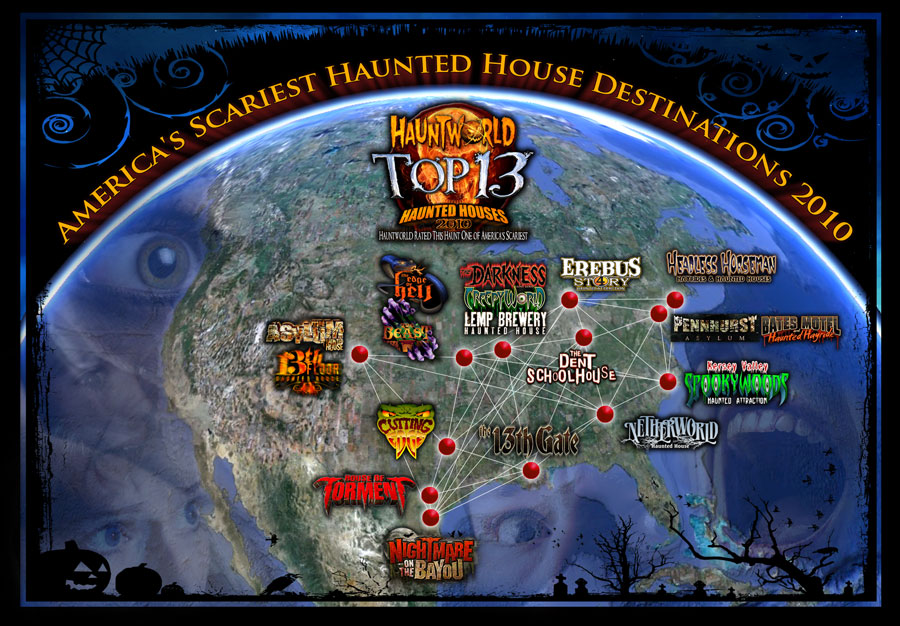 AMERICA'S TOP 13 SCARIEST DESTINATIONS 2010:

13. Nightmare on the Bayou, Houston, Texas - www.NightmareOnTheBayou.com
12. House of Torment, Austin, Texas - www.TheHouseOfTorment.com
11. The Dent Haunted Schoolhouse, Cincinnati, Ohio - www.FrightSite.com
10. Asylum/13th Floor Haunted House, Denver, Colorado - www.GetScared.com
9. Kersey Valley Spookywoods, Greensboro, North Carolina - www.Spookywoods.com
8. The Cutting Edge Haunted House, Dallas, Texas - www.CuttingEdgeHauntedHouse.com
7. Netherworld Haunted House, Atlanta, Georgia - www.FearWorld.com
6. Headless Horseman, Poughkeepsie, New York - www.HeadlessHorseman.com
5. The Beast & Edge of Hell, Kansas City, Missouri - www.FullMoodProd.com
4. The Darkness, Creepyworld, & Lemp Brewery, St. Louis, Missouri - www.Scarefest.com
3. 13th Gate Haunted House, Baton Rouge, Louisiana - www.MidnightProduction.com
2. Erebus Haunted House, Pontiac, Michigan - www.HauntedPontiac.com
1. The Bates Motel & Pennhurst Asylum, Philadelphia, Pennsylvania - www.TheBatesMotel.com and www.PennhurstAsylum.com
America's Scariest Haunted House Destinations 2010

Haunt-goers travel high and low visiting cities across America in search of the best, scariest, and most outrageous haunted houses. The internet has made it possible for those haunt-seekers to find, shop and compare haunted houses in their quest for that ultimate haunted house rush or that over-the-top scare they've been dying to experience. Through websites like Hauntworld.com, people from all over the world can readily find haunts to visit to experience that pinnacle of fright. This year alone, American's will spend over 500 million dollars to feed their fear, buying tickets to haunted houses, experiencing ghost tours, visiting amusement parks with haunted venues, or attending other Halloween related attractions.

Hauntworld.com is a website that houses an online haunt directory. It's a shopping guide for haunted houses. This directory can guide you on a journey across America to locate some of the best haunted houses available. Together with HauntedHouseMagazine.com, Hauntworld.com is publishing AMERICA'S BEST HAUNTED HOUSES. The 2010 edition of the best haunted houses will direct you to some of the scariest cities in America where you can get your SCREAM on!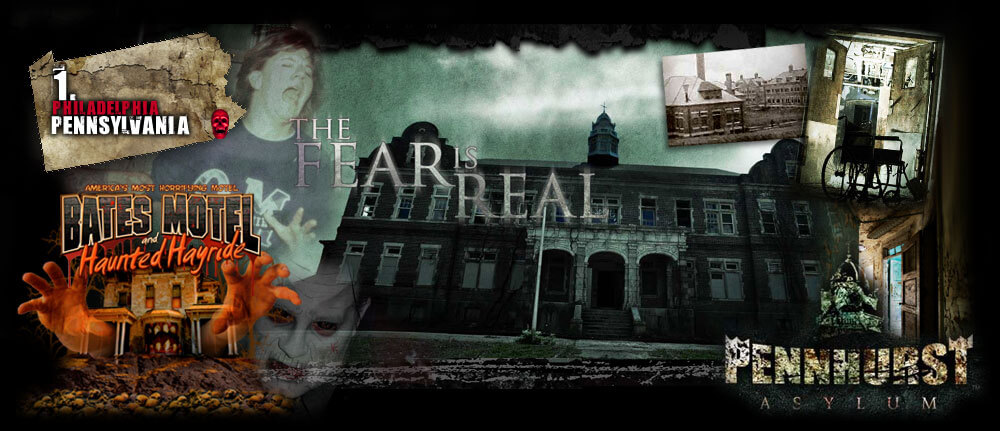 1) Philadelphia, PA: The city of brotherly love is also the city of fear! Philadelphia has a collection of some of the best haunted houses in the nation. If you visit the Philadelphia area, you could visit about 15 to 20 top notch haunted houses. Additionally, you could find dozens more just outside the Philadelphia area. However, the two BEST haunted houses in the Philadelphia area are The Bates Motel with Haunted Hayride and the all new Pennhurst Asylum.

The Bates Motel is a high action, adrenaline pumping haunted attraction featuring a 25 minute, heart pounding haunted hayride through the dark forests of Arasapha Farm. This horrific hayride is just the beginning. The dark corridors of the Cornfield Trail will surely send shivers up your spine, but nothing compares to the main attraction of this trilogy of terror, The Bates Motel, a huge Victorian mansion filled with computer controlled animatronics, digital sound , lighting and fog, detailed rooms, custom soundtracks, and a host of professional actors. Consistently ranked best in the country, The Bates Motel is one show you won't want to miss! To learn more about The Bates Motel visit TheBatesMotel.com.

Pennhurst Asylum is the other MUST SEE attraction in Philadelphia. It boasts a 16,500 square foot attraction inside a 100 year old building where a museum begins your journey and details the birth, growth and death of the Pennhurst State School. This haunted house is guaranteed to keep you on edge the whole way through. Imagine a highly detailed surgical suite, complete with operating room, lights, gurney and other cabinetry that have been moved from the original hospital located on the property. Another great set is the morgue, detailed with real morgue drawers used in the facility years ago. To cap off this tremendous haunted house, you will travel through a series of underground tunnels over 800 feet long. To learn more about this truly haunting experience, visit PennhurstAsylum.com.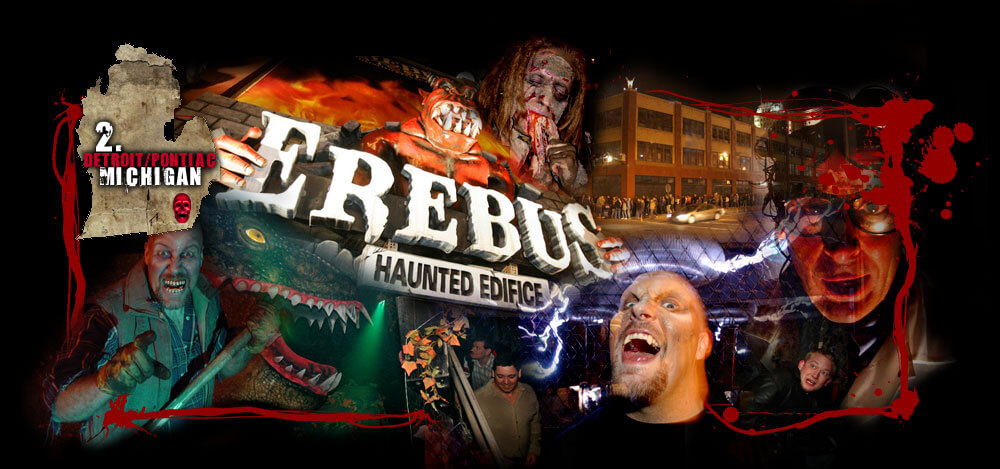 2) Detroit/Pontiac, MI: Detroit boasts more haunted houses in one 50 mile radius than any other city in America. Years ago, a multitude of vacant buildings became a breeding ground for haunted houses, but only one stands alone as a long-running Detroit favorite…Erebus. Erebus 4 Story Haunted Attraction boasts THE LONGEST haunt with four amazing stories of fear.

Located in the haunt capital of the world, Erebus opened its doors in 2000 and has consistently gained recognition as one of America's top haunts. It remains #1 in the Detroit market for a reason. Erebus is known for the way it engages its victims in an all out scare assault. Because Erebus personally manufactures nearly all of their major effects, guests are guaranteed a unique experience as they advance through the terrifying, four story labyrinth of dark, dank, dingy passages where your fate is unknown. This haunt creates a fear factor so intense, some call it PAIN. For more information, go to HauntedPontiac.com.



3) New Orleans/Baton Rouge, LA: The New Orleans/Baton Rouge area is historically filled with voodoo and haunting stories, but this area is also known for the intensity of their haunted houses. One haunt is set up inside a real funeral home and another is known as the most controversial haunted house in America, but the 2010 overall BEST haunted house is The 13th Gate.

The 13th Gate has consistently been recognized as one of the top haunted attractions in the country, rated best by Hauntworld.com. This 40,000 square foot haunted house will take you on a journey through 13 frightening themed indoor/outdoor sets where your worst nightmares come true and anything can happen. Award-winning scenic artists, set carpenters, lighting and sound technicians, and special effects artists are just a few of the many crewmembers that make The 13th Gate THE ULTIMATE haunted experience. It's an experience you won't soon forget, IF you survive The 13th Gate! For more information, visit MidnightProduction.com.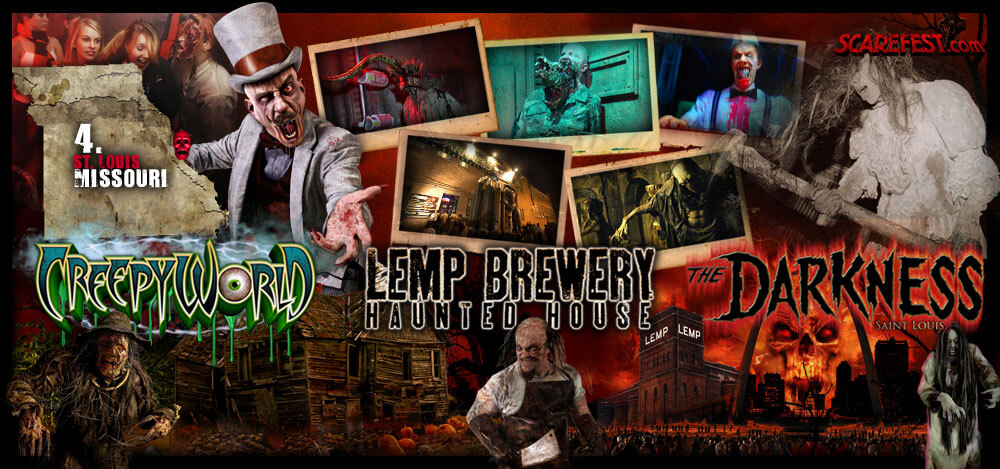 4) St. Louis, MO: St. Louis is widely known for Cardinals baseball, The Arch, the St. Louis Zoo and more, but it has a sinister past starting with one of America's biggest ghost stories, the historically haunted Lemp Mansion. As well, St. Louis is known for its professional haunted house attractions…The Darkness Haunted House, Creepyworld Haunted Screampark and the NEW Lemp Brewery Haunted House, three of the most unique haunted attractions you will find anywhere in America.

The Darkness has been featured in USA Today, Modern Marvels, the Travel Channel, and National Geographic Channel. It features some of the most realistic set designs and special effects ever seen inside a haunted house. With two floors of fright, The Darkness also features a monster museum and the world's best 3D haunted house, Terror Visions. The Darkness is often hailed as simply the best, most detailed haunted house in America. Visit Scarefest.com for more details.

Creepyworld is one of the largest haunted scream parks in America, now featuring seven haunted houses in one location for one low price including Tombstone Haunted Hayride with mind-blowing pyrotechnics. Creepyworld has incredible set designs, creative back plots, and 100's of live and animatronic monsters known for the most crazy, outrageous actors in the industry. Hardcore haunt fans who desire an entire evening of frightful fun rank Creepyworld their most favorite haunted scream park for a reason! Visit Scarefest.com for more details.

There is another haunted house located in St. Louis called The Lemp Brewery Haunted House. Lemp Brewery was one of the nation's biggest brewing companies prior to prohibition. The Lemp history is one that's truly haunted. The building still stands on old Lemp Avenue. The haunt is actually built under the old brewery inside real caves and caverns, making it one of America's only real haunted houses. To learn more about visiting all of the St. Louis haunted houses go to Scarefest.com.



5) Kansas City, MO: Once labeled as the 'haunted house capitol of the world' by Time Magazine, Kansas City features amazing haunted attractions such as The Chambers of Poe Haunted House, Macabre Cinema Haunted House and Kansas City Ghosts and Gangsters Tour, but two of the best Kansas City haunts are The Beast and Edge of Hell.

Established in 1975, Edge of Hell is Kansas City's oldest and best haunted house and has molded into a national model for celebrating the Halloween season. The converted five story warehouse in which it stands is the granddaddy of them all, offering a 30-minute, quarter mile walk-thru. Its many scenes are elaborate and detailed and house a cast of over 45 live actors, including two of the largest anacondas in North American captivity. This is one haunt you won't want to miss. Can you make it through hell and back? Find out more at EdgeOfHell.com.

The other KC featured haunt is The Beast. Established in 1991, The Beast is known throughout the industry for having pioneered the "open format" of haunting. With this style, guests wander through scenes, never knowing when an actor or activated device will rock into action. It's a truly intense experience like no other. It takes about 45 minutes to an hour to walk through IF you don't get lost along the way. To exit this haunt, there's a blazing fast, 4-story slide straight down. To learn more, visit FullMoonProd.com.



6) New York/Poughkeepsie, NY: New York is known for its theatrical productions, and their haunted houses are no exception. With the most wicked character actors, New York haunted houses rock! Ranked best this year is one of the biggest and best haunted hayrides in America, The Headless Horseman.

Headless Horseman includes 8 separate attractions including a hayride, a corn maze, 5 haunted houses, 4 eateries, a haunted walk, and a haunted show. Their 2010 hayride theme, Escape of Prisoner X, incorporates high tech special effects, pyrotechnics and illusions. The newly constructed Crow Hollow Harbor is an expansive set design that includes three 40-foot haunted fishing boats. Also, new for 2010 is the antique Night Shade Nursery & Greenhouse, purchased from a historic estate and restored at the Horseman. In addition to amazing actors, the cast includes stilt walkers, line actors, side show illusionists and a stunt team. Guests are entertained at the Headless Horseman for 2 ½ to 3 hours straight! Visit HeadlessHorseman.com for all the details.



7) Atlanta, GA: Atlanta doesn't boast as many haunted attractions as some of the other cities on our list, but the best haunted house in Atlanta might be the best haunted house in the country. Prepare to experience Netherworld!

Netherworld Haunted House brings you a monster fest of epic proportions. Inside Netherworld, nightmarish creatures fly, swing and crawl as they hunt for flesh, so real you'll feel trapped in a horror movie. You might even see a 17-foot tall gargoyle king feasting on his prey. Walk lightly…You won't want to be his next victim. You must escape The Mangler, The Acid Room, The Drowning Tank, The Flesh Compactor, and other horrific death traps as the haunt grows even bigger this year. You might escape with your life, but not your sanity! Visit Fearworld.com for all the details.



8) Dallas/Fort Worth, TX: The state of Texas is experiencing a booming and growing haunted house industry like no other, especially the Dallas area which now features more haunted houses than any other city in Texas. Cutting Edge Haunted House is currently celebrating its Guinness World Record as the longest haunted attraction in the World, so it's no surprise this haunt is on the BEST list.

Located in a 100-year old abandoned meat packing plant in a section of Fort Worth historically known as 'Hell's Half Acre', Cutting Edge is built on a foundation of fear. The old meat packing plant is back in use, but this time it's being used for human flesh! Cutting Edge features 32 animations, 26 sets, massive creatures on the roof, monster hearses outside, and a pre-show performance comparable to 'Stomp'. This is one haunted production you won't want to miss! To learn more about Cutting Edge visit CuttingEdgeHauntedHouse.com.

9) Greensboro/Raleigh, NC: If you visit this area, you'll certainly find plenty of screams. This area is known for its many outdoor haunted adventures. Creating an outdoor haunted experience allows for a more authentic scare, and one such attraction that stands out above all others is the Kersey Valley Spookywoods, North Carolina's LARGEST haunted attraction.

Spookywoods isn't just a haunted house. By day, it's also a Halloween attraction for the whole family featuring a huge corn maze, a 2-mile long zip line, pumpkin patches, fossil & gem digs and much more. Once dusks sets in, Spookywoods Haunted Scream Park opens featuring America's only haunted tram ride, Dark Terror. Spookywoods also includes a haunted cornfield, Wrong Way haunted house, The Fun House, and the main attraction, Spookywoods Maze. Using some of the best scare techniques combined with top quality sets, special effects and detailed creatures around every corner, Spookywoods offers a unique haunted attraction and probably America's best overall Halloween experience. Visit Spookywoods.com or MaizeAdventure.com to learn more.


10) Denver, CO: Denver is a city with a historic past and all sorts of things to scream about, but most importantly are three of the best haunted houses, The Asylum Haunted House, 13th Floor Haunted House and Blood Shed.

Horror in the heart of the Mile High City, The 13th Floor is located on the edge of downtown Denver and the Lower Downtown (Lodo) entertainment district. Where is the 13th Floor and why is it absent in so many buildings? Denver's legendary haunted house takes you on a gut wrenching elevator ride to the mysterious 13th Floor. Visit the current occupants who call it their home. Witness the oddities and strange occurrences that have created the legend of the 13th floor, and discover why it continues to be one of the world's greatest, ghostly mysteries. Visit GetScared.com for more details. (The 13th Floor San Antonio is a new, 2nd location getting ready to open in San Antonio, TX. Find out more at 13thFloorSanAntonio.com.)

The Asylum is Denver's longest running haunted house featuring two levels into Gordon Cottingham's Hospital for the Mentally Insane. The Asylum is a damp and musty place infested with spiders, rats, snakes and endless screams of tortured souls. Together with Blood Shed Haunted House, Denver's newest and goriest Halloween attraction, this haunt location offers a truly terrifying experience. As you travel through a dilapidated family farmhouse, a backyard of bloodshed and finally the family home, you'll see why Blood Shed is hillbilly horror at its most extreme. A truly graphic haunting experience bursts onto the Denver haunt scene in a way never before. To learn more about the best haunted houses in Denver visit GetScared.com.


11) Cincinnati, OH: Ohio is a great state for finding haunted houses. Ohio natives expect excellence in their haunted houses and they find it year after year at The Dent Schoolhouse, rated best by Fangoria, and we agree!

Imagine reliving a horror movie or your worst nightmare… You can at The Dent Schoolhouse! Movie quality sets, intense detailing, and first-rate animatronics combine inside an actual haunted schoolhouse from 1894. You'll experience the story of the murderous janitor and how the school came to its grizzly demise. The Dent Haunted Schoolhouse will shatter your fond memories of school and replace them with horrific, haunted nightmares of school-age days.

There are several haunts to visit in Ohio but make sure you put Dent Haunted Schoolhouse on the top of your list. With a cast of 50+ monsters and award winning make-up artists, the crew of Dent will be happy to "school you" in FEAR! Visit Frightsite.com for more details.



12) Austin, TX: Austin would surely be higher on our haunting cities list IF there were more haunted houses to visit. However, the one to see has dominated the competition so fiercely that it leaves other haunts gasping for air. That haunt is House of Torment (otherwise known as HOT).

House of Torment is one of the most cutting edge haunted houses in America offering a horrific experience like no other and featuring three unique attractions offering patrons a variety of dynamic experiences. The first attraction guests must brave is Nightmare Mansion, a theatrically driven horror escapade that takes customers through the macabre and demented experiments of an early 20th century physician, Dr. Incubus.

Second is House of Torment's main event, Revenge of the Immortals. This nightmare takes customers deeper into the post apocalyptic wreckage of a war torn city where infected mutants, an abomination army, and predatory immortals prey on the living. The 3rd and final attraction is a festival filled with entertaining atmosphere, large animations, and highly detailed monsters rounding out the average nightly staff at just under 100 people! To learn more, visit TheHouseOfTorment.com.

13) Houston, TX: Currently, Texas has the 3rd most haunted houses of any state in America according to the Hauntworld.com database, and it continues to grow rapidly. Houston is no exception with several top rated haunted houses, but one specific haunted house stands above all others, Nightmare on the Bayou.
Nightmare on the Bayou features several animations, sets, special effects, and acclaim REAL ghost haunting. It's built right next to one of Houston's biggest and oldest haunted graveyards, so to have supernatural visitors drop by from time isn't unusual. Nightmare on the Bayou features one of America's biggest Halloween costume shops, Party Boy, located directly next door. Party Boy is known as THE Houston place to buy Halloween costumes, decorations, and supplies. When you visit this haunted house make sure you bring your credit card or you'll be kicking yourself once you see all the goodies at the Halloween store. But no matter what, prepare for the haunting of your life at Nightmare on the Bayou! To learn more, visit NightmareOnTheBayou.com.

Those are the top 13. Now, head out to see some of the best haunted attractions in America. If you visit any or all of these cities and you want to find more haunts while there, log onto HauntWorld.com's online haunt directory where you'll find more great haunted houses to visit throughout the US and worldwide, and make your 2010 Halloween season the best and scariest ever!